Would you like to give your employees or business partners a great gift that will be really useful and which they will enjoy for years to come? With the innovative range of Nikki.Amsterdam products, you will not only be giving a beautiful gift, but a recognisable expression of appreciation for the person you are giving to.
Brings People Together
We hope you connect with our products. Not only in and around the home, but during a pleasant get-together in which our products contribute to those moments that will not easily be forgotten. All of our products have a luxurious look and feel which make them ideal for a very personal gift. We are confident that you will make a big impression with such a gift!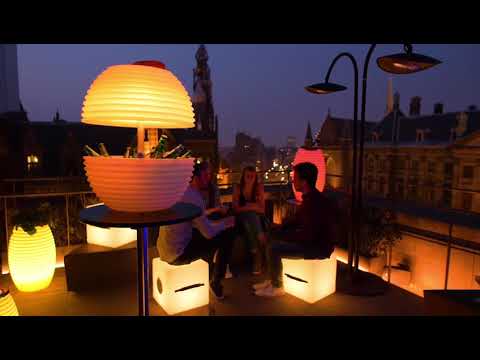 In our shop you can view all products. We would like to highlight some of them. Our favorite is of course The.Lampion which is available in different sizes. This lantern, wine cooler and speaker in 1 is a favorite of many because of the beautiful design, the multifunctionality and the beautiful multi-color lighting. Wine cooled, music on and an atmospheric light. What else do you need? New this year is The.Lampion XS. This cools only the smallest bottles of champagne and wine and is therefore particularly suitable as a table or desk light. Because of its friendly price, The.Lampion XS is definitely recommended as an original gift.
No less successful as a gift are The.Boards, our serving boards. We offer these in two different types of wood in two sizes. Our serving board is made of wood from French wagons from 80 to 100 years old. Our other serving board, made of rubberwood, can also very well be used as a cutting board. Both planks have our characteristic leather handle on both sides with which the lanterns are also equipped. Standard our name is printed on it, of course it can be personalised and provided with the brand name of your own organization.
Would you like to unpack something bigger and are you looking for a package rather than a separate present? Then take a look at our 3 great packages. A combination of The.Lampion, a serving board and a coldpack, possibly supplemented with delicious Amsterdam products. We are sure this will be appreciated! Of course it is possible to customize these packages by adding a nice bottle of wine or champagne for example. We are also happy to add a personal card! We are happy to take work off your hands and can even take care of the delivery. Curious about the possibilities? Mail us at sales@nikki.amsterdam or call 023-205 2307.
Personalised.
For those who want to stay in the spotlight for an extra long time, we offer the possibility to personalize our products. This can be done by placing the brand name of the organisation in the leather handle, with which most of our products are equipped. Please feel free to contact us about the possibilities via our contact form on the right, by mail to sales@nikki.amsterdam or by phone on 023 205 2307.
Giftboxes
Would you like to unpack extra large and put together a package? That is also possible! A lantern with a beautiful durable serving board or a lantern with a bottle of wine or bubbles from Astrid & Therese, we like to think along with you! All our packages are delivered in a nice giftbox, to which you can add something yourself if you wish!

Stock
We have all our products in stock but in case of large orders and/or personalized orders, we advise you to order in time so we can guarantee delivery.